Villero
Castiglione Falletto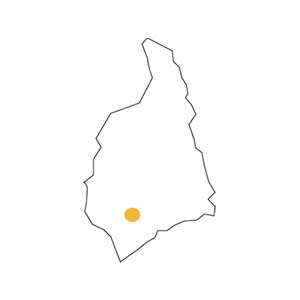 I've no doubt mentioned this often before, but since we've come as far as the letter V, I hope you'll forgive a repetition: if your goal is to grasp the uniqueness of a vineyard and, above all, of the wines it produces, the only way to reach it is by comparisons. Among many possible examples, the one I refer to most frequently is between Villero and Rocche di Castiglione.
As can be seen from the extract of the geo-viticultural map, but above all in this first panoramic image, Rocche di Castiglione and Villero are divided only by the road that runs along the ridge. On both sides sandy Sant'Agata Fossili Marls dominates, but what changes substantially is the exposure: Rocche di Castiglione faces southeast, Villero (at least the visible part) faces southwest. Following what was said in the Introduction, Villero should therefore render wines that are warmer and richer in body, though less fruity than those of Rocche. And so it is.
However, if we compare Villero with Monprivato, we know that Monprivato produces wines that are leaner even though both MGAs are on the same type of marls and have a similar exposure. What changes this time are the soils, which range from younger, as in Monprivato, to evoluted, above all in the medium-low part of the slope and in the part of the Villero that faces west. I stress "above all" because even in the other areas there's a certain difference in the soils from those of Monprivato, and it is no coincidence that the wines produced from those vineyards (I'm thinking of Oddero or Barolo Enrico VI of Cordero di Montezemolo) never betray the spirit of Villero.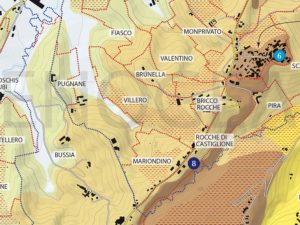 Recommended tastings
Barolo Villero – Brovia; Barolo Villero – Giacomo Fenocchio; Barolo Villero – Giuseppe Mascarello e Figlio
Reference tastings
Barolo Rocche di Castiglione – Brovia; Barolo Monprivato – Giuseppe Mascarello e Figlio
Surface:
22 ha
Elevation:
230 - 350 m
Harvest period
Very early
Early
Intermediate
Late
Very late
Geology: MSAs; MSAt