Bricco delle Viole
Barolo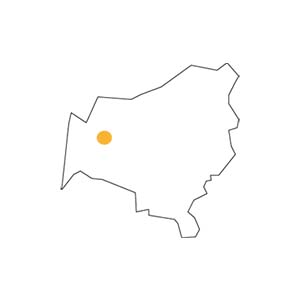 Something that a 3D digital reconstruction would never be able to show is right here before your eyes.
Call it genius loci, call it emotion, call it whatever you like, but in the case of Bricco delle Viole, and partly also of the other MGAs seen on the left side of the image, it is what in my opinion best defines this cru. Even more than the soils and geology (evoluted soils of laminated Sant'Agata Fossili Marls) and even more than the distinction between the upper and lower part of the MGA, divided by the r strip of houses in the middle of the area colored in red.
What makes the difference is the sensation of openness, altitude, brightness and freedom that I feel every time I reach the upper part of Bricco delle Viole, from where the second image was made. This is a different place, as different as are the wines, more tense and fruity than those of Fossati, for example, which is a few hundred meters away with very similar soils, or, at the same time, less lean and composed than a Barolo from Serradenari. One might imagine this as a high place that needs hot vintages to thrive, but that is not the case, as many fine bottles can testify to the contrary.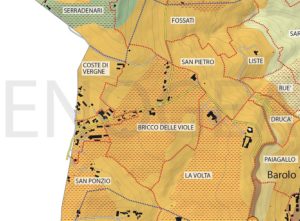 Recommended tastings
Barolo Bricco delle Viole – Casina Bric 460; Barolo Bricco delle Viole – M. Marengo; Barolo Bricco delle Viole – G. D. Vajra
Reference tastings
Barolo Coste di Rose – G. D. Vajra; Barolo Brunate – M. Marengo; Barolo Fossati – Cascina Adelaide; Barolo Serradenari – Giulia Negri
Surface:
45 ha
Elevation:
370 - 490 m
Harvest period
Very early
Early
Intermediate
Late
Very late
Geology: MSAl